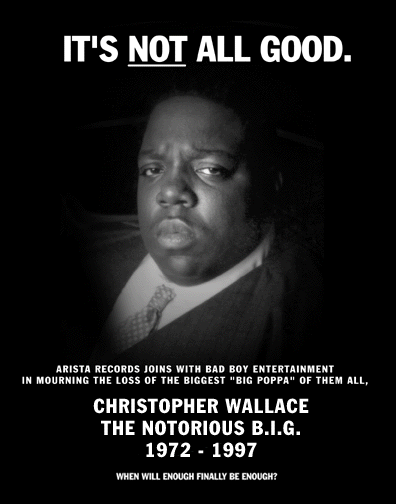 Remember : The Best Rapper Of All Time almost died on March 9th. In 1997, Notorious BIG cheated on the Great Ripper. It was right after the Soul Train Music Awards. But if Wallace didn't end up in a casket that day, this incident certainly ruined his career. Unable to properly promote Life After Death because of his long recovery, he was also blamed by fans and critics alike for the pop incursions, the glamorization of his new wealth and his departure from the grimy mood of Ready To Die.
In a lame move, Biggie publicly blamed Puffy for some of his bad choices, but it was too late. He needed to find something to redeem his name and his career. Anything. In order to do so, he recorded "Born Again". With Biggie not even in full recovery, hastily recorded, this LP was supposed to be for the rapper a return to his roots. Enough with the champagne. Biggie had lost his bet with "Life After Death", and he chose to go back to the style of Ready to Die by mocking his detractors (Dead Wrong), praising the ghetto life (Niggas) and giving a sequel to "The What" (Rap Phenomenon). He even tried to recreate the magic of Notorious Thugs with the Hot Boys, only this time, it ended up quite sluggish and flat (Hope you Nigga Sleep). There were some highlights of course, the story of his convalescence (Notorious), the gang-bangs full of anal sex of Big Booty Hoes, but it wasn't enough : Biggie felt the rap scene slowly turning its back on him.
Not really receiving any help by Puffy, who was busy working with Mase and Shyne, Biggie simply gave up. For years, the ex-King of New-York almost retired. His only appearances were on Lil'Kim's, who he continued to mentor (and fuck?), and with his former protege Jay-Z. He spent the following years promoting his clothing brand Brooklyn Mint and acting in a couple of Martin Lawrence's feature films. In 2006, The Final Chapter turned out to be a fiasco and achieved to prove he didn't care anymore: uninspired, lacking coherence, the album sounded like a posthumous piece. How ironic. Choosing not to rap anymore was the right thing to do for Biggie.
He has reconciled with his wife Faith Evans and they now live together in a luxurious mansion in the Hollywood Valley, just a few miles away from the place he was shot a few years before. Between the shooting of two commercials for his new fast food restaurant "Big Poppa", Biggie, 38, enjoys himself, smokes weed, and has time to pick up his kids after school. I'm not even sure that he is so busy these days and I don't know if Lil'Cease is still his de facto driver / weed carrier. But I'm sure that, every evening, he sits in his garden and just enjoys the view. And every night since the night he cheated death, despite his bad career moves, and a feeling of disappointment towards the ruthlessness of the rap game, Biggie fights his regrets and his rampant bitterness. Because, after all, his post-rap life is still decent and enjoyable. Because he can see his kids blossom. Because he's just 38 and at this age, everything is still possible. And because he knows very well that all of this could as well have never happened.
Remerciements traduction : Guillaume Cassuto